What a sad world to be living in- a dog was put inside a suitcase; the suitcase was closed, and then it was dumped in a park in the cruelest way possible.
But, despite the cruel way in which it was abandoned, the dog is now alive and well thanks to joggers running through the park in Toronto who spotted the suitcase and saw it moved.
They stopped and opened up the suitcase-inside, there was a small Jack Russel terrie mix puppy.
Saved from Certain Death ?
One of the joggers who saved the puppy is a supporter of the Black Dog Rescue, a Canadian animal rescue organization, and so she immediately reached out for help.
The organization gladly accepted to help and they took in the puppy under their wing- they shared photos of the abandoned puppy hoping to find the person who's responsible for this horrible neglect and abandonment.
They emphasized that the joggers followed the drag marks of the suitcase some 200 meters which led them to the Lambton Arena parking lot.
They suspect that the people who did this may be ones from the apartments nearby or people from another place who drove to the parking lot to get rid of this lovely dog.
The dog survived because the weather was a bit warmer than usually.
Otherwise, it may have frozen to death. They also found out that the dog had recently given birth and she had no microchip when scanned for one.
What Are the Further Steps?
Even though the authorities were notified about this case, unless they find something on the nearby cameras, there's not much they can do, claims the rescue organization.
This is why they call for identification of the dog's owners in order for the police to talk with them. They are firm that the person who did this to her needs to be brought to justice.
Animal rescue organizations constantly emphasize that there's no need to dump dogs and other pets- there are easy and humane ways to rehome your pet such as local shelters.
This dog, which is around 5 and 7 years of age doesn't have a microchip or a collar; however, some people have noticed an indent around her neck, indicating of a possible collar.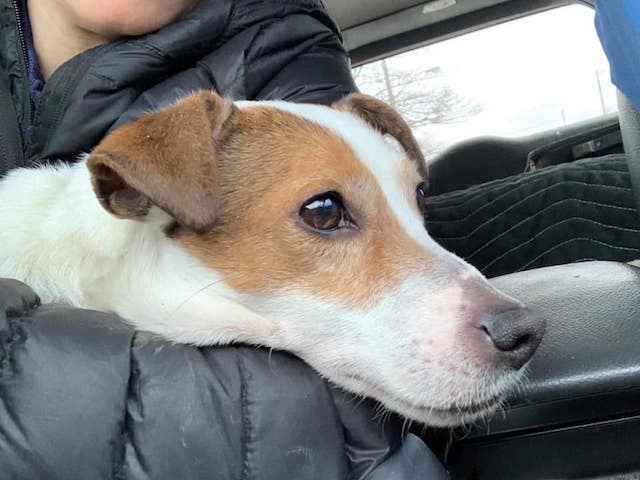 The dog won't be up for adoption until she's properly examined.
Sources: